Video & Audio
Richard Leblanc produces rigorous outputs and understands global and emerging developments. He is regularly asked for his opinion on current events and topics related to his teaching, professional activities, and research.
Television and Web
BNN – If things get worse for Morneau, Trudeau should cut him loose: Corporate governance expert
Richard Leblanc, professor of corporate governance at York University, joins BNN to provide perspective on the ongoing duel between the Liberal government and the Tories over ethics-related controversies facing Finance Minister Bill Morneau. Now the Conservatives are calling for his resignation.
Uber's New CEO Should be an Outsider: Corporate Governance Expert
Richard Leblanc, professor of corporate governance at York University joins BNN to dig into the Uber management debacle, and where the company goes from here.
Inside America's Boardrooms: Will your town at the bottom impact shareholder value?
To tackle this important topic, we're joined by Dr. Richard Leblanc (professor, lawyer, governance expert, and author of the recently released The Handbook of Board Governance).
Bombardier governance concerns: CBC Business News
Richard LeBlanc, associate professor of governance law and ethics at York University, on Bombardier's dual-class share structure.
BNN: 'A material conflict' if HOOPP is behind Home Capital credit: professor
Bloomberg is reporting the Healthcare of Ontario Pension Plan is behind Home Capital's line of credit. The CEO of HOOPP is also a Home Capital shareholder and on the board. York University professor Richard Leblanc tells BNN, if the news is true, this presents a clear and material conflict of interest.
Valeant CEO paid $63M in 2016 while stock plunged
Valeant CEO Joseph Papa took home US$62.7 million in 2016 as the stock dropped, providing an 85-per-cent negative return for shareholders. York University professor of corporate governance, Richard Leblanc joins BNN to discuss executive compensation.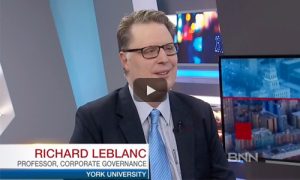 CTV NEWS:Your Morning – Why are the big five Canadian banks being investigated?
A federal investigation is being launched into business practices of the big five Canadian banks. York University's Richard LeBlanc explains.
CBC NEWS:Canadian 'dummy' corporate directors: tools for tax avoidance
Watch Dr. Leblanc discuss how Canada's rules permit figurehead directors.
Dr Leblanc on The Conference Board: Governance Watch webcast
Watch Dr. Leblanc discuss his new book, the Handbook of Board Governance.
BNN – 'These guys got nailed.'
Richard Leblanc, talks about Former Valeant, Phildor execs arrested on fraud, conspiracy charges.
BNN – TD board's most important responsibility is CEO succession
Richard Leblanc, associate professor of law, governance and ethics at York University joins us to discuss what TD Bank and TD Ameritrade's acquisition of Scottrade may signal regarding potential succession plans at the bank.
Inside America's Boardrooms: Key Steps to Building an Effective Board
Richard Leblanc is put on the hot seat to discuss key steps to creating a great board—and how investors can know how effective their board really is.
BNN Pay Check: Canada's Top-Paid CEOs
The numbers are in. Richard LeBlanc, Associate Professor, York University, joins BNN to stoke the executive compensation debate with the annual ranking of Canada's highest-paid CEOs.
CBC Exchange: Proxy Access
Watch Dr. Leblanc talk about Proxy Access for boards and how it could be a corporate governance game-changer.
CBC News: Networking CEOs a Tight Club
York University's Richard LeBlanc on the tight networks of friends on corporate boards.
CBC Exchange: SNC-Lavalin Faces Charges
Law professor Richard Leblanc on the governance dilemma over corruption.
BNN CEO Pay Under Scrutiny — Corporate Canada
Richard Leblanc, Associate Professor, Law, Governance and Ethics, York University joins BNN to offer insight on corporate Canada's CEO debate.
McCuistion: Board Diversity
Watch Richard Leblanc discuss the importance of board diversity and how a diverse board can be beneficial to a company.
BNN – The Confidence to Invest Special
Watch Richard Leblanc on BNN provide insights on the world of investing and markets as key investment locations.
BNN – The Price We Pay: Executive Compensation Special (Pt. 1)
Watch Richard Leblanc on BNN talk about executive compensation. This is part 1. Part 2, 3, and 4 are in the related videos section.
BNN – Stronach's Sky High Pay Days Numbered at Magna
Watch Richard Leblanc on BNN talk about Stronach's consultancy fee at Magna.
U of T Rotman School of Management: CANCON 2014 – Introduction to Corporate Governance
Watch Dr. Leblanc present an Introduction to Corporate Governance at CANCON 2014. Link has video and slideshow.
Alberta Prime Time: The Sunshine List
Watch Dr. Leblanc discuss Alberta's recently released sunshine list that reveals the salaries of all public employes earning over $100,000/yr.
McCuistion: What Good Board Members do to Help Organizations Succeed
Watch Dr. Leblanc appear on McCuistion for a talk on the current state of Boards and what strategies can be used to make them successful.
BNN: Telus Debate: What is Best for Shareholders?
Watch Dr. Leblanc appear on BNN's August 29th episode all about the Telus shareholder debate.
Building Your Board Up and Keeping it Strong
Part of the Nonprofit Risk Management Conference. It talks about recruiting, developing and assessing the right directors for your board.
Directors Source Webinar Series
Webinar to 1,800 directors on not for profit governance, including recruitment, development, assessment, questions and answers.
Committee for Economic Development of Australia (CEDA)
Keynote presentation on a model of board effectiveness, including structure, membership, process and tasks.
Witness for the Board of Directors Gender Parity Act
Board of Directors Gender Parity Act (S-206) at the Senate Committee on Banking, Trade and Commerce.
BNN: Jamie Dimon's future at JPMorgan
Watch Dr. Leblanc on BNN with Allan Small as they talk about the recent vote to keep Jamie Dimon at JPMorgan.
How to Create Effective Nonprofit Boards: The Necessity of Governance and Leadership
Presentation given through the University of Texas at Dallas, (IECG) Institute for Excellence inCorporate Governance.
CTV Lang & O'Leary Exchange: CPP Strike – What to do with the Board
Television interview on the CPP Strike and the board's structure change. (Richard appears at the 6:30 mark).
50 Nuggets in 60 Minutes: Excerpt from Conference Speech
Spoke on fifty Corporate Governance related points in a one hour session.
Canadian Society of Corporate Secretaries' Annual Conference
Trends and Issues in Corporate Governance Since The Financial Crisis.
Hennick Centre for Business & Law: Women on Boards
Plenary discussion on strengthening diversity initiatives in the workplace and on boards of directors.
ROB TV's SqueezePlay: Directors With Personality
Television interview on board leadership, industry knowledge, teamwork, the capacity to challenge and other attributes.
The Agenda with Steve Paikin: Keeping Ontario Accountable
Television panel discussion on governmental accountability, oversight, compliance and best practices.
Radio Waves